This is part 2 in what is quickly becoming a "Day Trip to Boston" series. Using Salem as your hub for vacation is a great idea - from Salem you can easily explore Boston, Gloucester, Rockport, Ipswich, and Newburyport via public transportation.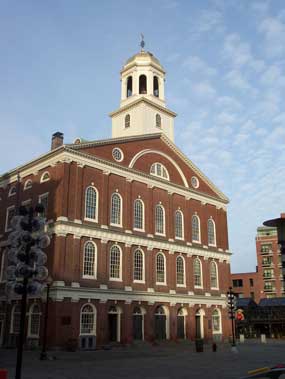 Day Trip to Boston I
focused on sports and shopping. This day trip is all about the Freedom Trail, so get ready to brush up on your Revolutionary War History.
So, you've taken the Salem Ferry or MBTA Commuter Rail from Salem to Boston, and you have found your way to
Faneuil Hall
(Via green line from North Station, via foot from the Ferry). Faneuil Hall is adjacent to Quincy Market, so you have a perfect balance of shopping, buskers (seasonal), and the
National Park Service
.
The
Boston National Historical Park
interprets the Revolutionary War, and there are worthy stops at Old North Church, the Constitution in Charlestown, and the Old State House.
The Freedown Trail
, which is a 2.5 mile brick trail to some of Boston's most significant historical sites, is a great walking tour that can be self-guided or professionally-guided. There are an ample selection of brochures and walking maps at the Boston Visitor Center should you decide to go it alone.
I recommended a trolley tour to get your bearings in the first Day Trip to Boston post. Feel free to insert that recommendation again here.
There are several places to eat in this historic district, but you may want to hold your appetite until the Freedom Trail takes you into the North End toward Paul Revere's House. Fabulous pizza, pasta and pastries abound in Boston's
North End
. Eat well, you'll need the energy if you're going to the top of the
Bunker Hill Monument
.
Finally, take in a tour of Old Ironsides, the
USS Constitution
in Charlsetown. "The world's oldest commissioned warship afloat," a tour of the Constitution is interesting for all ages.
Back at Faneuil Hall, and at the adjacent Quincy Market, there is ample shopping for all, and a plethora of restaurant options for the snack or meal you will need after walking the Freedom Trail.
I haven't gotten into Boston's museums yet, which means there's a Day Trip to Boston III still to come.
One last note: If you are taking the
Salem Ferry
back to Salem after exploring Boston, I will happily remind you that there is a galley on board with plenty of snacks and beverages to help you relax, unwind, and recount your day's adventure.