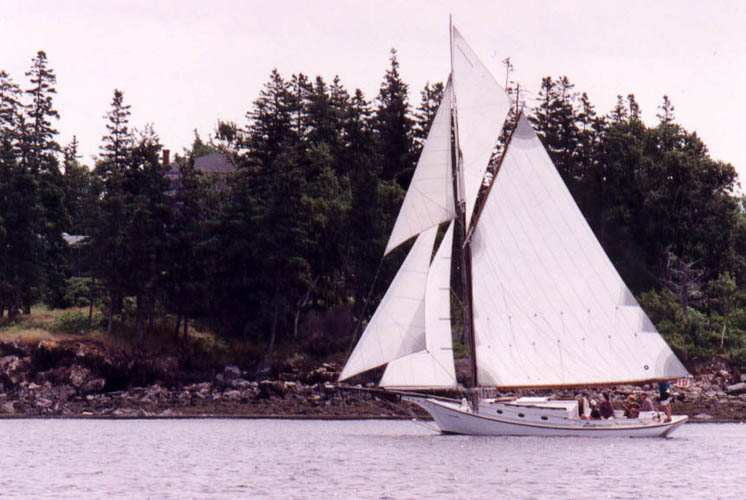 Have you ever seen a Friendship Sloop gliding gracefully along under a full press of canvas? Ever wonder about her design, or what it's like to sail one? If so, attend a presentation by Friendship Sloop owner/builder Charles Burnham of Essex this Wednesday, December 3, at 7 PM.
Through use of both new and historical photographs, Charles will discuss the history, characteristics, and special sailing qualities of this workhorse turned yacht. Also discussed will be the resurgence of popularity in recent years, fostered by the Friendship Sloop Society, and the undiminished enthusiasm such a beautiful sailing vessel can inspire.
St. Joseph Hall, 160 Derby St., Salem.
The Hall is handicapped accessible.
Directions: Derby Street runs along the Salem waterfront, from Pickering Wharf where Fame is located, through the National Maritime Historic Site where the Custom House and Friendship are located, down to the power plant, whose stacks are visible from a great distance. St. Joseph's Hall is a three-story brick building on the landward side of the road, immediately after the small gray West India Goods Store and before the Witches' Brew and Pig's Eye Pubs. Enter through the gray door on the street and go up the gray stairs to the second floor.
Parking: There is legal parking all along Derby Street, but it may be difficult to find a space. There is two-hour parking on Pickering Wharf and a parking garage at the corner of Derby & Congress Street.
For more information, call 978-729-7600 or 978-740-1660.
Pictured: Friendship Sloop "Resolute", launched 1973, built by Charles Burnham.