Ahhhhh.... spring has sprung! The attractions that have been sleepy and, well, closed all winter
are dusting themselves off, taking a big stretch, and opening for the 2009 season. Huzzah!
Here are four that are looking forward to welcoming you beginning April 1:
THE SALEM TROLLEY
8 Central Street (Tickets available on board and at the Trolley Depot, 191 Essex St.)
978-744-5469
http://www.salemtrolley.com/
Enjoy a historically accurate one-hour journey through five fascinating centuries. Free same day

shuttle. 10:00 am - 5:00 pm (The last full tour departs the National Park Service Visitors Center at 4:00 pm.)
You can get a combination ticket to the next three attractions and save $5.00 per person...
WITCH DUNGEON MUSEUM
CELEBRATING OUR 30TH ANNIVERSARY
16 Lynde St.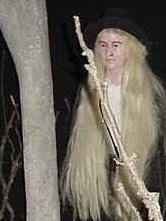 978-741-3570
http://www.witchdungeon.com/
Award winning live re-enactment of a Witch trial followed by guided tour of the Dungeon. Open daily 10:00am to last performance at 5:00pm, April through November.
WITCH HISTORY MUSEUM
197-201 Essex St.
978-741-7770
http://www.witchhistorymuseum.com/
The stories of 1692 are told through a live presentation followed by a guided tour downstairs where you will see 15 life size scenes depicting these stories. Open daily 10:00am to last tour at 5:00pm, April through November.

NEW ENGLAND PIRATE MUSEUM
274 Derby Street
978-741-2800
http://www.piratemuseum.com/
A guided tour through the Museum where you will view historical artifacts, experience the adventures of New England sea-robbers, board a pirate ship and explore an 80ft cave. Open daily 10:00am to last tour at 5:00pm, April 20 through October, weekends in April and November.