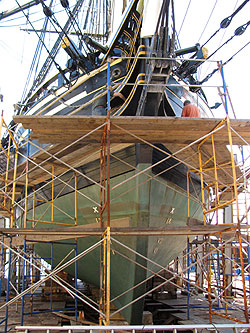 As all of FRIENDSHIP's many friends are aware, Salem's Tall Ship has been in Maine for the last six months. A trip to the Boothbay Harbor Shipyard for routine maintenance turned into a much bigger project than anticipated.
Join the National Park Service at 7 p.m., on November 4, at St. Joseph Hall, 160 Derby St., Salem, to see slides and hear stories about the ongoing work. We'll also get an update on the certification process as well as a sneak preview of FRIENDSHIP's schedule for 2010.
This free lecture is sponsored jointly by FAME and by the National Park Service. Refreshments are served. The Hall is handicapped accessible. For more information, call 978-729-7600 or 978-740-1660.