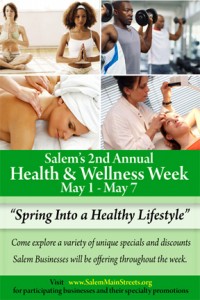 The second annual
Salem Health & Wellness Week
is right around the corner! Our health and wellness businesses are collaborating to provide a week to refocus your health and exercise routine. We'll all need it after April vacation and the April holidays!
Scheduled for May 1 - 7, 2011, Health & Wellness Week is organized by Salem Main Streets and will feature eighteen participating businesses. There will be discounts, raffles, promotions and prizes throughout the week. Each business will be giving away raffle prizes so the more businesses you visit, the more chances you have to win! Health and Wellness postcards are available at all of the participating businesses as well as in local shops in and around downtown.
Participating businesses include: A Sacred Place Wellness Center, Aleris Dental, B&S Fitness Programs, B&S Sport Science,
Body and Soul Massage and Wellness Center
, The City of Salem Park, Recreation, and Community Services Department, DWMMA Dragon Within Mixed Martial Arts, Extra Effort Fitness,
Green Tea Yoga
, Healthworks Fitness Center, Lasting Impressions Skin and Nail Boutique, Laura Lanes Skin Care,
LivingWell
, Salem Chiropractic Center, Sankofa Massage & Bodywork, Susan MacFarlane Massage Therapy and the Wicked Running Club. Be sure to visit the
Salem Main Streets
website for the latest information and schedule of events.