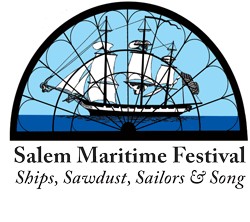 The Salem Maritime Festival is all about Ships, Sawdust, Sailors, and Song, but, being a mother, I like to headline the fact that it's free family fun! And the fun is educational, and the education is fun, so it's a painless way to spend a beautiful Saturday - and Friday night - with your family on Derby Wharf.
It all starts tonight with a free concert by Coyote Run, an awesome Celtic Rock band, so bring a blanket, a picnic (or at least an ice cream cone) down to Derby Wharf to listen and dance. 6:30 - 9:00 PM.
Here's what we have to look forward to on Saturday:
EVENTS
Free Harbor Cruise Ticket Drawings: 9am(Central Wharf Ticket Booth)

Free Harbor Cruises: 10am - 1pm

Seaside Kite-flying: 10am - 4pm

NE Aquarium Tide Pool Exhibit: 11am - 2pm

Face Painting: 12noon - 3pm

Muck Walk, Life at Low Tide: 12noon, 2pm

Hayrides around Historic Salem: 1 - 4pm

The Rebel Shakespeare Company: 1pm, 3pm

The Weebluets, Scottish Dancers: 2pm
All DAY
Friendship of Salem Tours & Demonstrations
USS Constitution Master Gun Drills
USCG 47' Motor Life Boat Tours
Canoe and Kayak Rides
Hands-on! Jolly Boat Sea Adventures
Traditional Craft Demonstrations
Special Children's Jr. Ranger Program
Boat building, Kite-flying and a Muck Walk!
Roving Storytellers
Experience the Salem waterfront as it was in its early seaport heyday!