Salem Main Streets
is proud to announce The Salem Arts Festival, June 5 – 7, 2009 free fun for the whole family and a great way to start the summer with family friendly entertainment, a collaboration of world-class artists, and activities for children. The event will be held downtown Salem in Old Town Hall and also on Pickering Wharf.
The three day festival starts on Friday, June 5 with a Kick-Off Reception at Old Town Hall at 5:30 p.m. The reception will include a Juried Art Exhibition and an Arc Works Exhibition that will showcase local artists and their work including local favorite Racket Shreve. There will also be a special show of Presidential Inauguration 2009 Photos taken by First Class Petty Officer Mark O'Donald while on assignment as a photojournalist with the navy reserves covering President Obama's Inauguration.
During the exhibit enjoy the eclectic sound of the
East West Trio
, a Jazz, Funk and Blues band.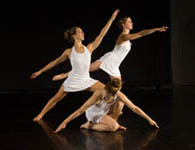 At 7 p.m.
Accumulation Dance
, a contemporary, modern dance company based in Boston, will be performing and at 8 p.m. Rebecca Hains, a professor at Salem State College, will present her soprano singing to Gilbert & Sullivan arias.
The reception is small preview, with large talent, of what is to come for the
Salem Arts Festival
. It is a chance to experience the talented, local artists and enjoy downtown Salem.
At 8:00 p.m., Soprano Rebecca Hains will present a recital of Gilbert & Sullivan arias. Selections will include highlights from The Pirates of Penzance, HMS Pinafore, The Mikado, and other G&S operas, with songs that range from the humorous to the romantic. With guest appearance by Tom Frates, baritone. Accompanied by pianist Thomas Dawkins.
For information on all of the events going on this weekend in Salem, visit
Salem.org
.
Schedule & exhibitors subject to changes. Visit the website www.salemartsfestival.com periodically for updates and for the full festival schedule.