Yay!!
Are you feeling my enthusiasm? I could just sit here and write, "Yay! Yay! Yay!" all morning, getting more excited with each exclamation. Why, you ask? Well, because the
Salem Farmers' Market
returns to Derby Square for its second glorious season tomorrow, Thursday, June 17th.
The market will be open on Thursdays from 3pm - 7pm from June 17 through October 21, 2010.
Yay!
I love the Farmers' Market because it is convenient - right down town - and it brings farms from around the region to Salem; it generates a sense of community; and, most importantly, it gives us great food!!
Monkey bread, strawberries, greens, squash, tomatoes, corn... oh, I love the growing season. And I hold a special spot in my heart for Essex County and Massachusetts farms. The farmers of Essex County are not only farming and producing great food, but the farms are preserving the landscape. Supporting the farms, whether it is at their farm stands or at farmers' markets like Salem's supports the preservation of Massachusetts' amazing, living landscape.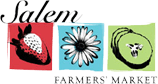 Last year the Salem Farmers' Market served an amazing 38,000 people during the season. This year they hope to entice more people to the market by being open one hour earlier - at 3pm - each week.
There will be fresh produce, live lobsters, baked goods, and crafts for sale. (You may remember the Swiss baker from last year, and unfortunately, we have learned that he is not returning. My kids will certainly miss his pretzels.)
Here's what's old and new at the Salem Farmers' Market:
Returning Farms
Clark Farm
First Light Farm
Gibney Gardens
Salem egg farmer
Maitland Mountain Farm
Green Meadows Farm
Long Hill Orchard
Simone Farms
Wally's Vegetables
Returning non-farm vendors:
Rowand Seafood
Rowell Fishing Company
Ellies Salad Dressing
Magick Moon Soap Wurks
Living With Pets
Creative Spirit Design
Salem Soapworks
New Farms
Flats Mentor Farm (an Asian vegetable farmer)
Cider Hill Farm of Amesbury
West River Creamery
The market will have numerous new vendors and products this year as well. Green Meadows Farm intends to bring local meat to sell at the market. West River Creamery is expected to bring a variety of cheese and nitrate free bacon and sausage. Rawberts Organic will also be a regular vendor at the market.
New non-food vendors
Little Monkeys Photo Company
Old Town Nantucket Baskets
Ara Leamar Custom Art Glass
Historic New England Phillips House
Little Birds Fly (baby and toddler clothing)
EMP (jewelry made by a local 11 year old girl)
The market is made possible through the generous support of Mayor Kimberley Driscoll and the City of Salem as well as numerous volunteers and the dedicated Salem Farmers' Market Committee.
The market is embarking upon a new program this year SNAP and will accept the EBT card at the market.
See you at the market tomorrow!!