Do you know ANOTHER restaurant just opened in Salem? We have had somewhere in the vicinity of 40 new businesses open in Salem in the past two years, and a remarkable number of them are restaurant and retail. The latest addition to our hot dining scene is
Howling Wolf Taqeria
on Derby Street. Also new on Derby Street is The Seaport Cafe, down on the corner of Derby and Pickering Wharf. I had a delicious lobster roll there last week.
It would be easy to talk about new restaurants today, but the blog title would imply that I am going to make a recommendation for six things to do in Salem this weekend. There's so much going on, it's going to be tough to pick six, but here it goes...
1.
The Maritime Festival
... FREE FAMILY FUN! This is an annual favorite. The kids always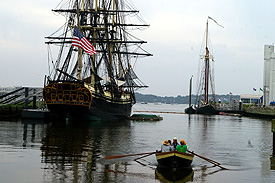 have fun, and it's free so the parents are happy, too. The Maritime Festival kicks off with a free concert (Afro Latin music by Mango Blue) on Derby Wharf on Friday night and continues on Saturday from 10am-5pm. There will be craft demonstrations, hands-on activities, kids can do tasks to achieve a Junior Ranger Badge, and - for the first time - there will be free sails on the Schooner Fame of Salem, Schooner Thomas E. Lannon from Gloucester, or the Joppa Flats. The free tickets will be given away through random drawings throughout the day. Visit
nps.gov/sama
for more information.
2.
Historic Salem, Inc.'s
Second Annual Heritage Days 5K Road Race
will be held on Sunday at 9:00 AM. The start is at the Visitor Center at 2 New Liberty Street. Okay, so I'm not a runner (not even a little bit) but I'm coming out to volunteer for the event and cheer on the runners - perhaps some of their ability will rub off on me! This is a really fun way to spend a Sunday morning - if you're a runner, it's not too late to register. If you're not a runner, grab a cup of coffee and come cheer the runners on around the course! The entry fee is $22, and proceeds from the race will be used for ongoing preservation work done by Historic Salem, Inc. within the Salem community. For more information, visit
HistoricSalem.org
3.
It's
Heritage Days
. There are dozens of events schedule for Heritage Days. I'm not sure how to pick'em, and they go through next week and into next weekend. I'm looking at the calendar of events, and I think I'll head over to Salem Common from the Maritime Festival tomorrow to check out the Edsel Car Show (part of an Edsel Owner Convention being hosted at the Hawthorne Hotel!). The Best Pizza Competition and Ice Cream Bowl (Monday and Tuesday nights, respectively, both on Salem Common) have my kids' attention. There's so much to do! Here's the schedule for
Heritage Days
(PDF).
4.
Tomorrow is a
17th Century Saturday
. A few years ago the first Saturdays of each summer month were dubbed 17th Century Saturdays. On these Saturdays an amazing collection of 17th-century homes and properties are open to the public. The remarkable part of this is that many of these historic properties have very limited hours when they are open to the public. 17th Century Saturdays are a great opportunity to get out and explore these old structures. 17th Century Saturdays is a region-wide program. Participating Salem properties include:
The Witch House
(Corwin House),
Gedney House
,
House of
the Seven Gables
,
John Ward House
(in the collection of the Peabody Essex Museum), and
Pioneer Village
. For more information, visit
northofboston.org
.
5.
We have to eat, right? Nourishment is a good thing. The weather looks great for some dining al fresca. Check out the restaurants on Pickering Wharf with gorgeous water views, including
Capt.'s
,
Victoria Station
, and
Finz
. And don't rule out
Sixty2 on Wharf
... especially if you don't
have kids in tow!
6.
On Sunday, after the 5K, wander over the Chestnut Street to check out the
Ninth Annual Phillips House Car Meet
. The North Shore Old Car Club and Phillips House collaborate on this annual event that features vintage and antique vehicles along historic Chestnut Street. The meet will include the Phillips' collection of carriages, two Pierce-Arrows and a Model A Ford. For more information, visit
HistoricNewEngland.org
.